Covid-19 has created a steady rise in retail bankruptcies and accelerated the shift to e-commerce for 5 years.
With traditional retailers moving online and the increasingly competitive search landscape, it's a tough time to start an online business:
Consumers expect a two-day shipment and instant gratification.
Amazon's vertical integration is revolutionizing entire industries.
Many product markets are saturated with choice.
However, carefully choosing the right product will affect everything in your ecommerce business, from logos, web design, and branding, to order fulfillment and the unpacking experience.
Success in e-commerce starts with an amazing product.
In this guide, I give you 21 tips to find the perfect niche product to start selling online.
Let us begin.
Table of Contents
How do I find the best products to sell online?
First, your product must solve a problem for your audience. It must also be niche specific, unique, fulfill a wish, and have brand potential.
1. Conduct market research.
First, narrow your options by choosing an industry. What kind of products do you want to sell? Are you interested in fashion, technology, health, food or fitness? There are products that you can sell in any industry.
Once you decide on an industry, focus on the problem you are solving.
Once you have your problem and solution (your product), start doing market research.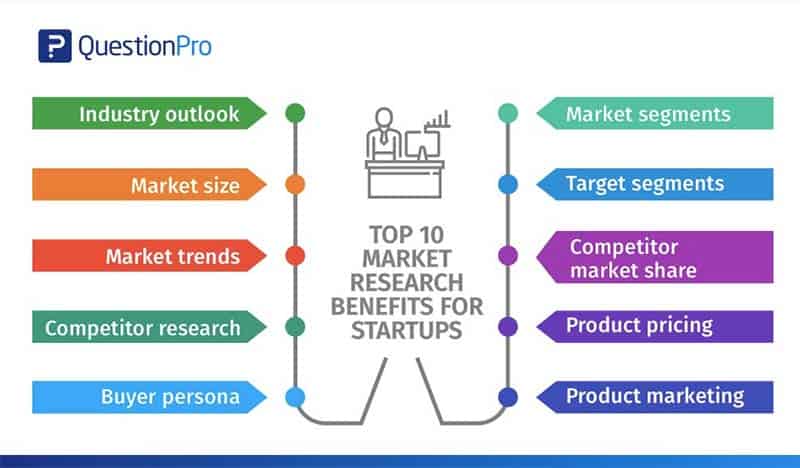 There are many ways to research the market – Google, Quora, forums, and social media channels are a good free way to start. If you do a little research and think your product is still a good fit for your audience, dig in.
Send an online survey to potential customers to find out what solutions they are looking for and understand your buyers on a deeper level. Next, try interviewing some of the respondents for more detailed answers, or hold a small focus group in your community.
Talk to people who give both positive and negative responses. Those who respond negatively can articulate what they are looking for and inspire an entirely new product line.
2. Research your competitors.
If your product niche has competition, that's really a good thing. It is better to see other people in your niche who are active and selling rather than trying to sell something completely new that no one may want. The competition is healthy.
In addition to looking at what your competitors are doing right, look at what they are doing wrong. Read their reviews and see what customers say they can improve.
Can you take advantage of those negatives by producing a similar improved product?
Or can you offer better shipping options? A cheaper price?
Are there potential customers that your market does not reach?
Can you beat them when it comes to SEO?
Use a combination of SEO tools, price research, customer research, and your own gut feelings to find competitive gaps in the market.
3. Your products must solve problems.
The most reliable way to find a successful product is to look for something that solves your problems. People want comfort; If you can offer a product that makes things easier, people will line up to give you their money.
Start by thinking about your own problems. If you find something frustrating, others are likely to feel the same way and are willing to pay for a solution.
This does not necessarily mean that you have to reinvent the wheel. You can make improvements to existing products or introduce an existing product to a new audience of people.
Drink Larq as an example.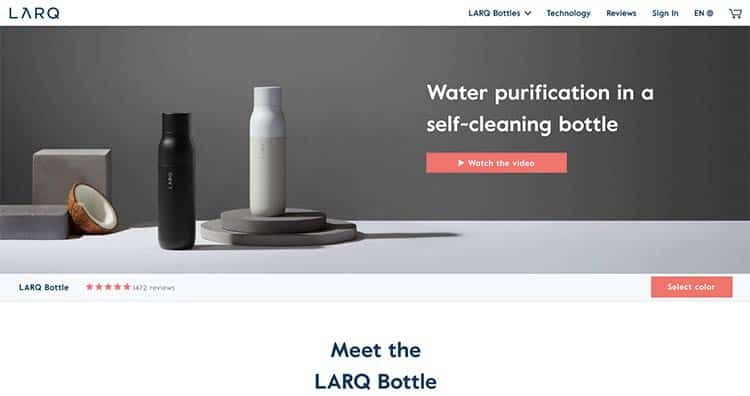 Water bottles have been around for centuries, but Larq carved a niche for himself by introducing a self-cleaning bottle. With this simple improvement to the basic design, they built a successful business.
4. Your products must be specific to a niche.
Look for product ideas that can excite a specific target audience. Start with your own passions; If you're working on something that you love, you probably know the niche and the issues that go along with it.
A niche audience makes it easy to market your product. You know who you're talking to, and you can create a consistent brand voice on your product pages, in your emails, on social media, and anywhere you interact with your customers.
If you can identify and serve a niche market segment, you will find a highly engaged and highly converting customer base.
5. Your products need brand potential.
Today's consumers buy from brands that are authentic and resonate with them on a personal level. Your products should be inspired by the overall mission of your brand.
For example, Tom shoes It is more than a shoe retailer; Their mission is to make an impact, and for every $ 3 they make, they give away $ 1. So far, they have generated $ 2 million to help the global Covid-19 relief efforts.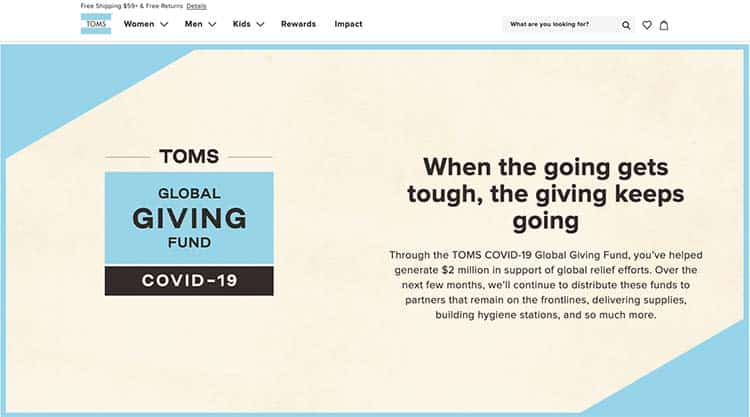 Your products must inspire a brand story; a broader vision than the products themselves.
6. Look for trending products.
While this isn't a great long-term sustainable business model, it can be beneficial to jump into a trending product idea.
If you can identify something that is becoming popular, you have a chance to own your SEO keywords, be perceived as a market expert, and capitalize before the trend rises.
This doesn't just refer to fads, like fidget spinners in 2017, or new essentials, like face masks in 2020. Trends can also refer to political or social movements that you can take advantage of, such as the environmental movement leading to sustainable products.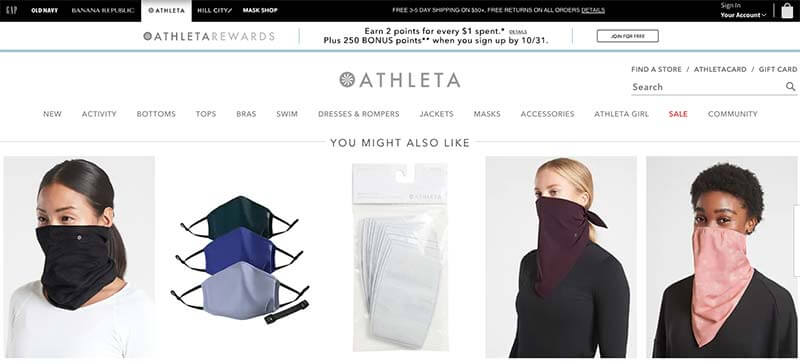 Start by visiting the places your customers frequent, whether they are online forums, popular industry blogs, Facebook groups, or subreddits. These online spaces for passionate fans will often point out the latest technologies and trends that customers are looking for.
You can also see where the market is moving with online tools. Write a topic in Google Trends, and the tool can show you interest over time and which sub-regions show the most interest.
Amazon also produces a trend report that can show you what is selling well, and the site highlights your best-selling products, new releases, and what's new.
Getting into a trend early gives you a chance to own SEO keywords and become a market leader.
7. Find products that meet your wishes..
Look for opportunities to indulge guilty pleasures. Shoppers often just want to buy things that make them feel good. There's a reason Spanx is more popular than workout gear – feeling good is easier and faster than long-term goals. And this is true in e-commerce.
It doesn't matter if it's a small luxury like chocolate or a high-end luxury car, people buy things that satisfy their desires.
Bon bon bonFor example, you've built a business around supplying small, relatively low-cost guilty treats for people who like decadent chocolates.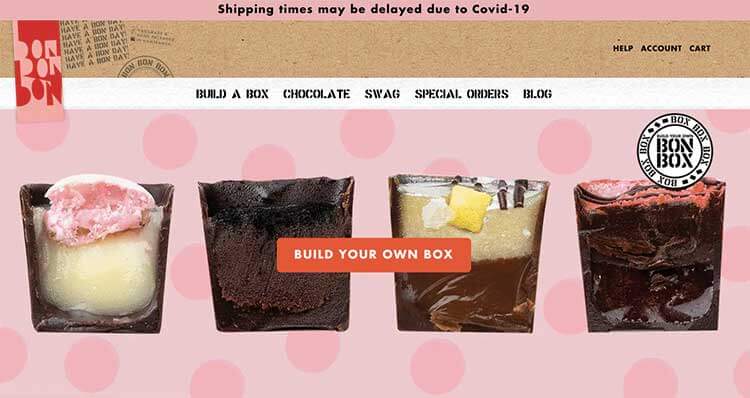 This is a wish-fulfilling, niche product with great branding potential that jumped into the subscription box trend.
You don't have to cover all four categories, but do keep them in mind when selecting your niche product.
8. Find products with passionate fans.
Passionate fans bring two benefits to your business. First, they make purchases, which is exactly what you want customers to do. Second, other people love your products. These big fans become brand ambassadors and help sell their products to their friends and family for free.
What kinds of products have passionate fans? Look for things that become part of a person's identity. In general, grocery shopping is not something that people are passionate about.
Still, if a particular diet, such as the paleo diet, becomes part of someone's identity, food becomes something they are passionate about. Business owners can make money selling grass-fed bone broth.
Other things that people are passionate about include comics, video games, sports teams, and marathons. People are willing to spend money on products that help assert their identity.
the Big green egg It is an example of a product that people are passionate about. Although it looks like another barbecue from the outside, the ceramic interior is a point of differentiation from other outdoor kitchens.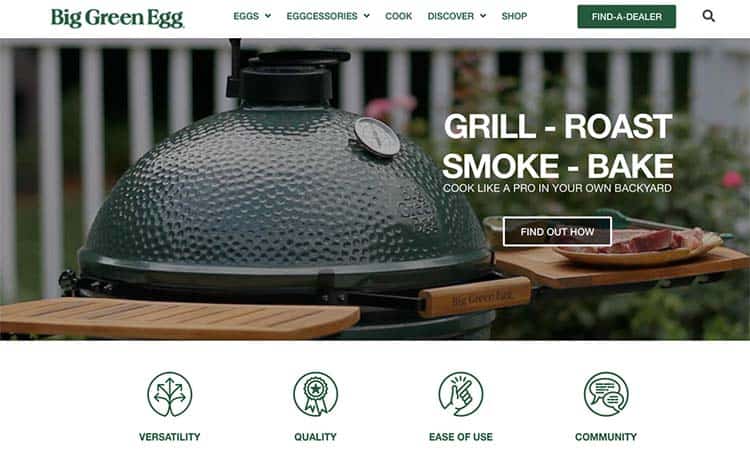 Happy customers rave about them, and many make YouTube videos showing the product's capabilities. The company encourages its fans by organizing events like EGGfest and displaying competitions and teams that cook with its products.
9. Consider your profit margins.
All industries have different profit margins, and customers will accept a higher margin for certain products.
For example, luxury items have a higher profit margin because customers are willing to pay a premium for the brand and the customer experience. Whereas food and commodities have a low profit margin and are dependent on high sales volume.
To calculate your potential profit, you need to take into account all of your costs, including cost of goods sold (COGS), employee salaries, e-commerce marketing costs, site hosting fees, payment processing , warehousing and order fulfillment.
Your ecommerce business model will play a big role in your bottom line profit margin, so be sure to split up those spreadsheets and calculate your products' MSRP to maintain a healthy margin.
What types of products can I start selling online?
There are two big decisions to make when choosing what to sell online: merchandise or niche, and physical or digital? The merchandise or niche is related to the market you are trying to enter, while the type of physical or digital product is the one you plan to sell.
1. Basic products.
These products are high-demand, essential or popular products. They are generally considered products that everyone needs, such as underwear, toilet paper or light bulbs, or popular labels within a niche, such as branded socks.
The potential market for these products is generally very high and there is constant and constant demand. However, there is also usually much more competition from other major retailers like Amazon and Walmart, and lower profit margins.
It's hard to establish yourself and stand out when you're competing against the big boys and selling products that aren't very memorable. The major brands also take advantage of economies of scale, so they may be able to sell you less.
2. Niche products.
On the other hand, niche products are unique and serve a specific customer base. These items can be unique, such as handmade crafts sold on Etsy, personalized pet products, sports gadgets, or anything that serves a specific audience.
When you sell niche products, it is easier to define a target audience and reach your customers.
The exclusivity of these products also means that you can charge more, which means higher profits. However, their market is smaller and people may not need to buy a niche item regularly, which can lead to slower growth.
If you have a hard time deciding, you can always choose to sell basic and niche products. Many companies build a brand around niche products, but they also sell a large number of commodities to increase their salable inventory. This can increase the likelihood of repeat customers and attract new customers to the site.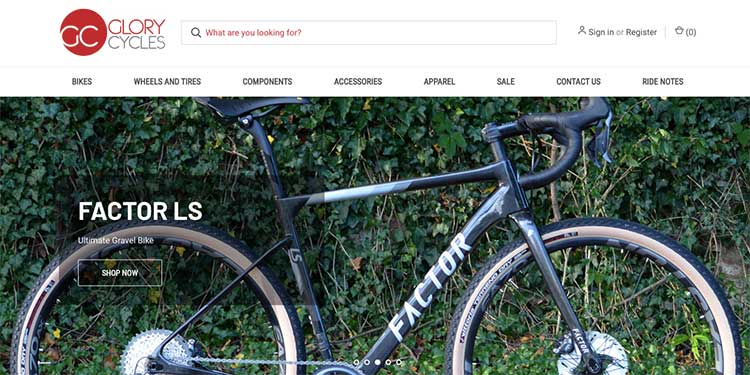 Glory cycles is a good example of this mixed sales approach. The specialized site sells high-end bicycles, as well as the components to build or improve a bicycle. However, they also power a range of popular brand accessories that all riders need on a regular basis, including helmets, cycling clothing, lights, and water bottles.
Although your customer will not have to buy an expensive bike regularly, he needs new helmets and shorts regularly. Storing these items keeps customers coming back to Glory Cycles.
Next, after deciding on niche products or commodities, there is also the question of physical versus digital.
3. Digital products.
These products only exist in digital format and include e-books, computer games, apps, or courses. At first glance, digital products may seem easier. There is no need to store or ship digital products, and you can configure your site to immediately ship them to your customer once they make a purchase.
However, they require upfront work, and you usually have to create a digital product yourself. Also, some marketplaces like Facebook do not allow you to sell digital products through their platform.
For example, on this blog I sell two digital products that help online entrepreneurs with SEO and affiliate marketing. Both are a series of documents, PDF, and spreadsheets that I uploaded to my ecommerce platform as a zip file. I then used the BigCommerce plugin for WordPress to be able to sell them on my WordPress site.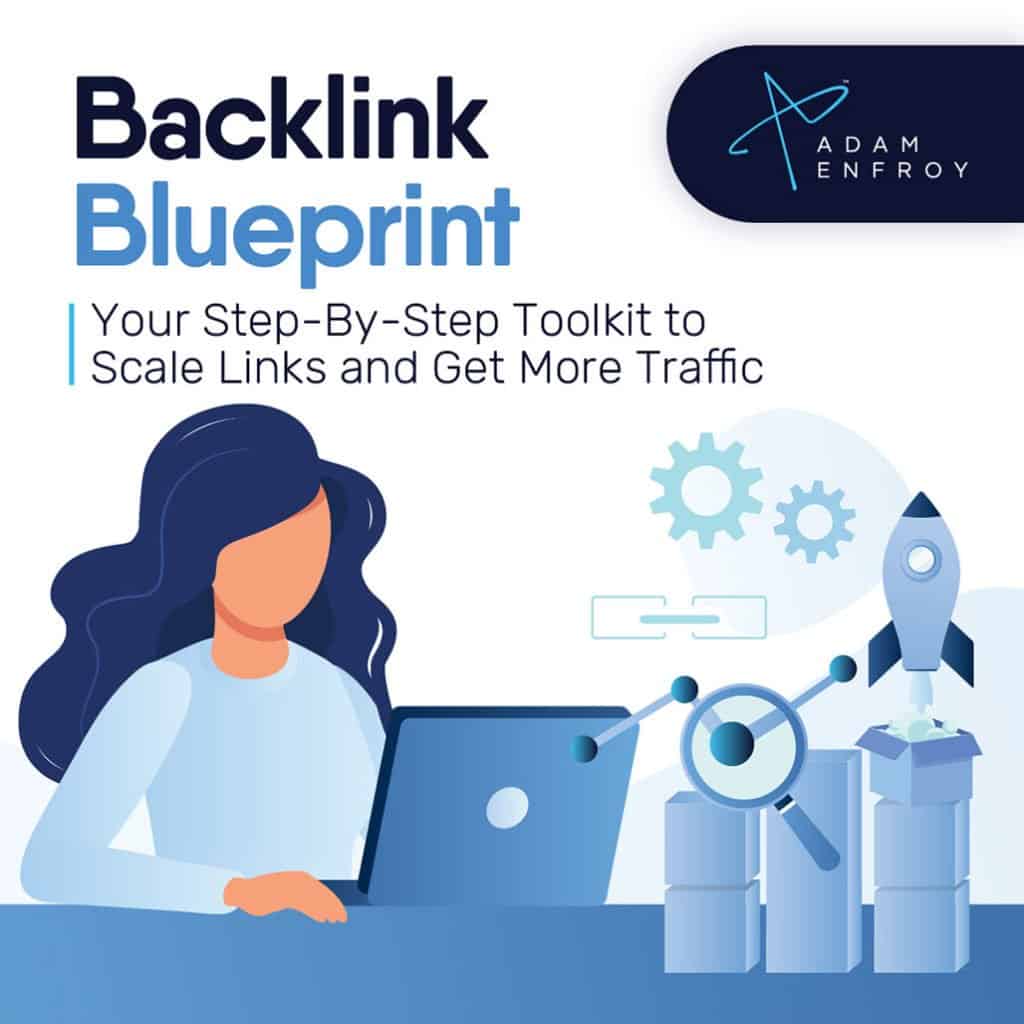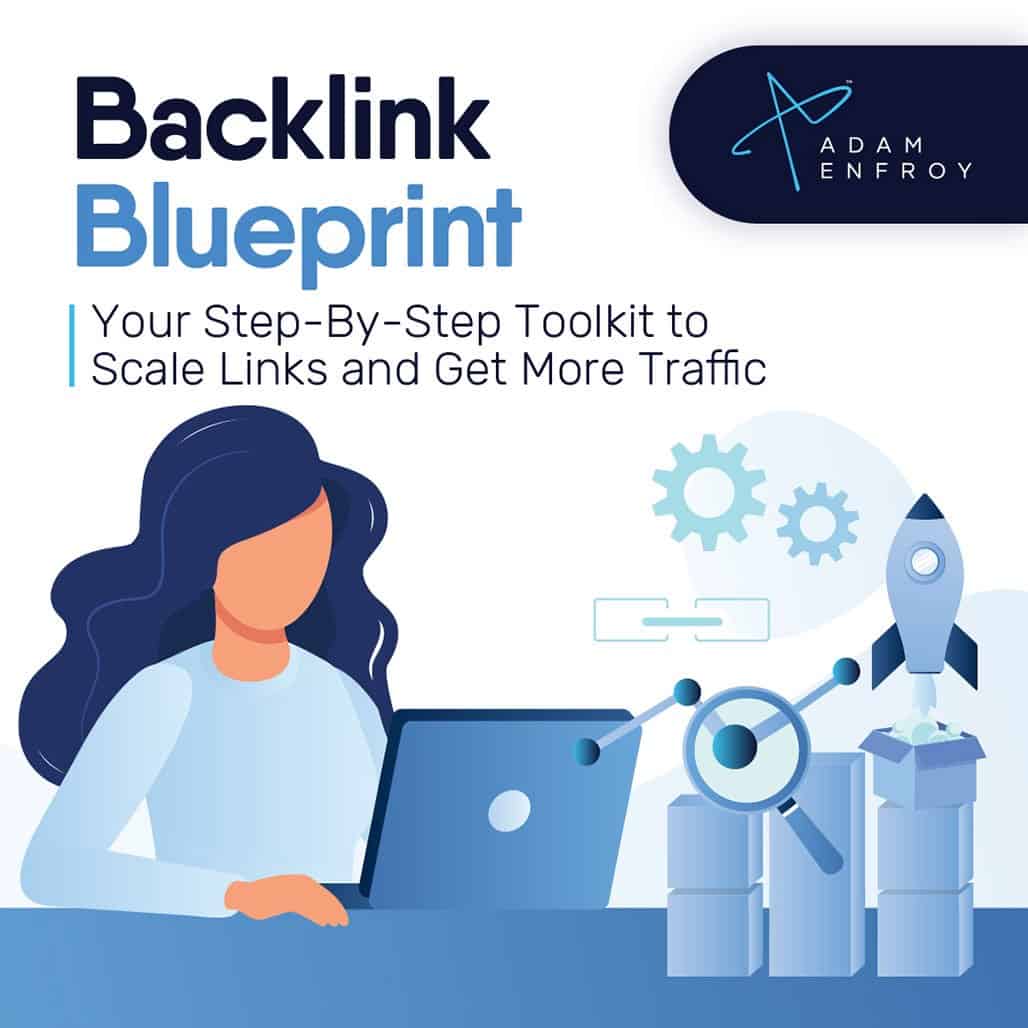 In this guide, we will mainly talk about how to find specialized physical products to sell online.
4. Physical products.
If you want to sell physical products, you need to consider production time, storage space, and labor costs for storing, packing, and shipping the items.
You also need to decide on your business model, be it dropshipping, outsourced manufacturing, or in-house manufacturing.
If you are inventing a completely new product, you should also invest in prototyping, which includes five different stages.
It's easy to start feeling overwhelmed with all of your options.
In the rest of this guide, we'll cover other key factors to consider so that you can narrow down your options and choose a high-performing product to sell.
Factors to consider when selling products online.
You also need to take logistical decisions into account when deciding on your products. These include where you will sell your products, your e-commerce business model, and delivery methods.
These final factors cannot be forgotten and will help you feel more confident about your small business plans.
1. Where to sell your products.
First, decide where you will sell your products. The top three options are marketplaces, social media platforms, and your own e-commerce site.
Online markets.
These are existing sales platforms that give you simple ways to add your own product listings, such as Amazon, Etsy, eBay, Facebook Marketplace, Bonanza, or Craigslist.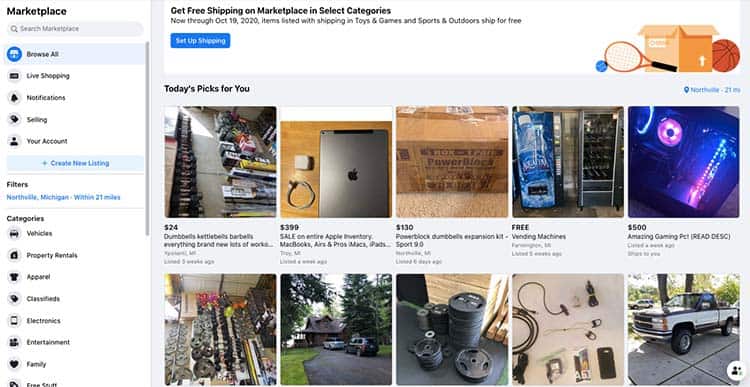 They have an existing site and audience structure for selling online, which makes it easy to sell stuff online. However, you don't have as much control over your brand, there are posting fees, and you're also competing against a lot of other people who sell on the site. If you plan to use local pickup and drop-off, you can also create local listings for your business to gain more visibility in small local markets.
Social media channels.
These social networking sites have many limitations and benefits. Selling on Facebook, Instagram, Google Shopping and Pinterest include tools that allow your audience to buy directly from the platform.
This allows you to show your products to followers and the convenience of immediate purchase helps turn them into sales. However, you have no control over your own online store, including your branding and payment experience.
E-commerce site.
The last (but best) option is to create your own ecommerce website using an ecommerce platform like BigCommerce. This option gives you full control over the appearance of your site.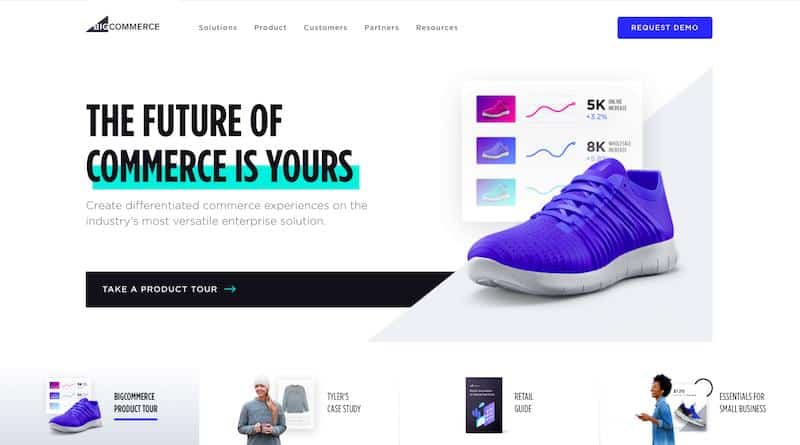 You can use your website builder to create your own online storefront, configure shipping and tax charges, create product pages, and enjoy fast loading speed, SSL certificates, and more. Using a platform like this also allows you to collect and analyze customer data, which helps your online marketing efforts.
The best idea is to use a combination of different sales platforms. This mitigates your risk in case your own website crashes or the social media algorithms do not work in your favor.
With a presence on social media and the marketplace, you can attract consumers to your site and obtain email addresses so that you can directly attract customers.
However, your own site does not include existing users, so digital marketing costs are involved in attracting customers to your site, as well as the monthly costs of the platform. There are also credit card transaction fees and monthly fees for other payment processors and payment gateways.
2. E-commerce business models.
There are four main types of e-commerce business models. The first two, consumer to business (C2B) and consumer to consumer (C2C), are not relevant for people planning to sell their own products. That leaves the business-to-consumer (B2C) and business-to-business (B2B) models.
Business to consumer.
B2C is a traditional retail business where goods are sold to the general public. This is the most common e-commerce business model and benefits from a shorter sales cycle, high order numbers, and excellent brand awareness.
Business to business.
The B2B model is exactly what it sounds like: a company selling to another company. Products can be physical items, such as wholesale products, or they can also be digital products, such as software that a business needs.
B2B models can benefit from large, recurring orders, which can lead to higher profits. However, there is generally a much smaller audience base than B2C, deeper work on purchase orders, and more contact customer service.
3. How to deliver your e-commerce products.
Your ecommerce business model includes the exact details of how you will source and deliver your products. There are many different options and the correct one depends on the type of product you are selling and how much control you want to keep.
Direct to the consumer.
D2C business owners sell directly to consumers, cutting out the middlemen. They can manufacture their own products or outsource production. Direct selling allows the company to maintain control over the brand, pricing, and customer experience, allowing them to build a loyal customer base.
Private label or white label.
White label products are where you apply your name, brand, or images to a generic product. With private label products, a manufacturer creates something for you to sell exclusively. These models mean less time in design and production, giving you more time to market the product.
Wholesale.
Wholesalers sell products in bulk at a lower price than the retailer. The opportunity to profit comes from large orders. Generally, wholesalers sell to retailers who then sell to consumers; however, some wholesalers do wholesale to budget conscious consumers.
Dropshipping.
Dropshipping is a popular model for online sellers. In the drop shipping model, the seller sources, markets, and sells items that are then supplied, packaged, and shipped by a drop-shipping provider, such as AliDropship or Printful. In essence, dropshippers are the middlemen.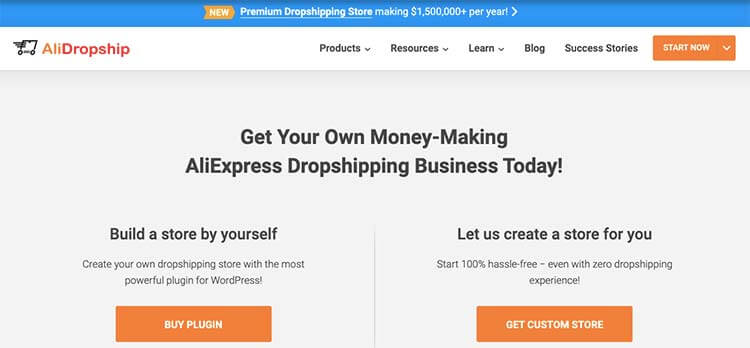 While this may lead to less profit on each item, you don't have to worry about stocking or shipping products, attracting more business owners who are not involved. Many ecommerce platforms have built-in integrations that help you easily set up a dropshipping business.
Subscription services.
With subscription services, consumers pay a monthly or weekly fee and receive new products on a regular basis. Cash subscriptions are a popular form of this model, where a range of related products is shipped to customers on a monthly basis. The boxes can be tied to anything from craft projects to clothing and wine.
This model can also work with digital services. You can get a regular fee from customers to access the software or provide music, e-books, meditation, or other products, on a regular basis. This model brings you a regular income and you can take advantage of seasonal sales by choosing things to add to the box.
However, it can be a lot of work to get and pack items regularly, and you need to think of new things each month to keep customers interested.
How do you start selling online?
Now that we've covered a few tips to consider when choosing your product to sell, it's time to start selling.
1. Do market research and choose your products to sell.
Follow the steps above to research and choose which products you want to sell. Remember to find a product that solves a problem, is specific to a niche, satisfies a desire, and is branded.
Go through the numbers to make sure your idea has healthy profit margins and a good chance of success. This is also the time to define your target keywords, start building your brand story, and connect with your prospects.
It is possible to develop your brand before deciding which product to sell, which can give you a boost when it comes to launching your business. Spearmint loveFor example, it started as a blog for babies.
When owner Shari Lott decided to open her own store, she already had a dedicated audience ready to try her products.
2. Choose your e-commerce platform.
There are many players in the ecommerce market, including BigCommerce, Wix, and Shopify. The options you choose will depend on your needs, but BigCommerce is a great option, as it can scale with you as your business grows.
All the features you need are included in the monthly price and they have many web design templates to choose from: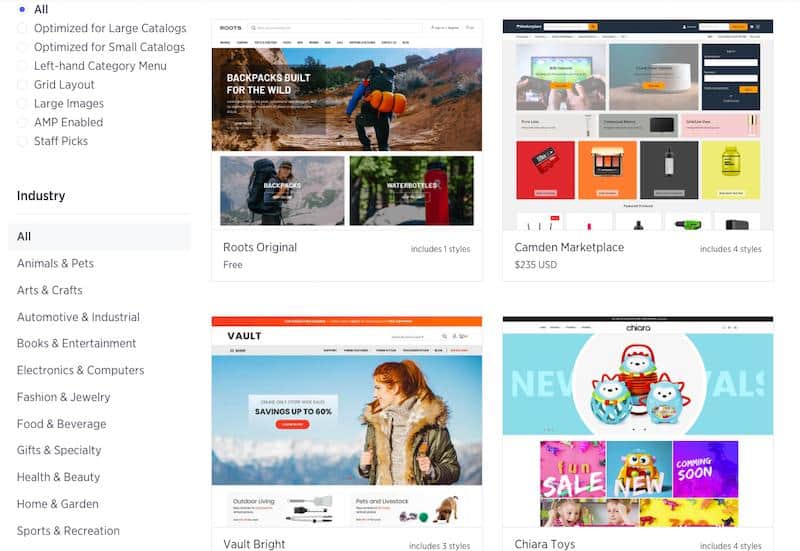 Setting up a store with BigCommerce is easier than you think, especially with drag and drop. Page creation tool. It's easy to add your categories and products, and you can select a theme to customize, helping you get the look that's right for your brand.
BigCommerce also guides you through the back-end settings, such as currency, shipping, taxes, and order fulfillment, so your store is ready at launch. If you're having difficulty, your help center has documentation, guides, and a community of other users ready to help.
If you are interested in learning more, you can read my full review of BigCommerce vs. Shopify to help you make your final decision.
3. Create your product content.
Your product pages are the most important pages on your site, as this is where customers make their purchasing decisions. There are two key elements on your product page: descriptions and images.
Both are equally important. While high-quality images can convert sales, it is the description that draws customers to the page, especially since this is what gets indexed by search engines.
When writing a product description, tell a story.
Don't just cover the features and benefits, but write about the emotional appeal of the product, the identifiable problem it solves, and how others benefit from it.
Your description should clearly state what your product can do for them. More importantly, it must be unique and written with attractive sales copy.
Take a look at how the furniture retailer Burrow write a copy for your Bento Side Table. While it's just a table, they don't just say, "It has four legs and you can put things on it." They tell a story and use engaging language: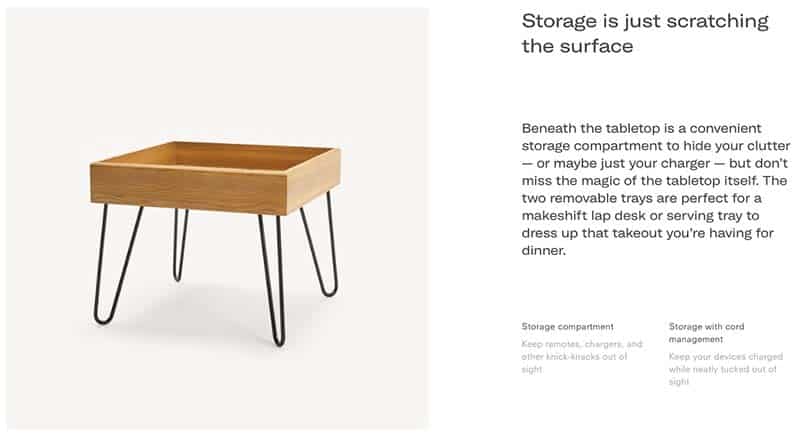 When it comes to images, include multiple images of each product, starting with the main image on a white background. Display the product from different angles and take more high-quality photos while in separate pieces.
Also include some images of the product in use, although these should not be the majority of your images. Keep images clear and high-resolution, then use a photo editing tool like PhotoShop to save them in a web format with a smaller file size.
Also, remember to add alt text to each image to help Google web crawlers index the images. If you are serious about success, do a little research on product page best practices to understand the different strategies for creating high converting product pages.
4. Start promoting and marketing your website.
Once your website is launched, it's time to start driving traffic to it. You can have an advantage if you have already started building your brand, collecting email addresses and followers on social media.
Search engine optimization (SEO).
In general, marketing your products requires a combination of strategies, both paid and unpaid. SEO or search engine optimization is the most important step. This involves keyword research to make your site visible in search engines.
Do some keyword research first and look for long-tail keywords, as large retailers probably dominate the basic keywords. For example, it will be difficult to get traction for the keyword "jeans," but "vintage denim jeans" or "skinny jeans for muscular men" may allow you to compete on page one of the search engine results pages (SERP).
Your on-page ecommerce SEO strategy has three main components: your product pages, your category pages, and your blog posts.
Blog posts will attract the most traffic and should be related to your products. For example, if you are a camping retailer, you could write a post about the "10 Best Backpacking Routes in the USA." And capture an audience that may be interested in your products.
Your blog posts then funnel individual readers to your category and product pages.
Your category pages should try to rank for the category itself: i.e. small backpacking tents, hiking poles, men's hiking boots, etc. Then your product page should try to rank in Google for the product search itself – the Northface Stormbreak 2 tent.
Once you have your content strategy in place, it is vitally important to start getting backlinks from other reputable sites in your niche to create a Domain Authority (DA). This DA is a number from 0 to 100 that tells you how likely you are to rank for the keywords in your niche.
Links are like the currency of the Internet; If none are pointing to your site, it will be almost impossible for your content to rank. Once you start building DAs through backlinks and guest posts from other sites in your niche, Google will see you as a more trustworthy site and will reward you with better search rankings.
If you're looking for more SEO help, you can read my full step-by-step guide on starting a blog for more tips on how I built an audience of 500k monthly readers (and $ 80k in monthly income) in less than 2 years.
Attract followers on social media.
La creación de seguidores en las redes sociales también es una excelente manera de atraer tráfico a su sitio web de comercio electrónico. Debe tener presencia en varios sitios de redes sociales y elegir cuáles en función de su mercado.
Por ejemplo, a las marcas de ropa les va bien en Instagram, a las marcas de artesanía les va muy bien en Pinterest y a las marcas B2B les va mejor en LinkedIn.
Sea parte de la conversación sobre su industria para atraer seguidores y destacar como una autoridad en su nicho publicando regularmente y siguiendo cuentas similares.
Crea tu lista de correo electrónico.
El marketing por correo electrónico es una gran parte de cualquier estrategia de marketing de comercio electrónico. Debe instalar una ventana emergente con intención de salida en su sitio web para que todos los usuarios vean una ventana emergente con una oferta antes de que decidan irse.
Una vez que se registren en su lista de correo electrónico, utilice una herramienta de marketing por correo electrónico para enviar una serie de correos electrónicos de bienvenida. Estos correos electrónicos deben proporcionar un descuento de introducción, contar la historia de su marca y hacer que su lista se entusiasme con sus productos.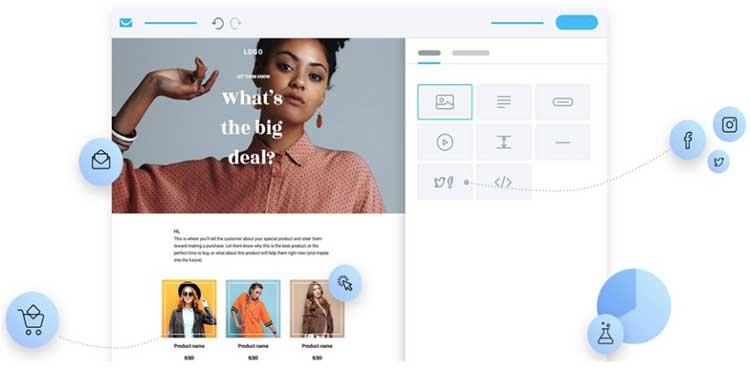 Los correos electrónicos de carritos abandonados también son de vital importancia para las marcas de comercio electrónico. Si un visitante va a la página de un producto y agrega un artículo a su carrito, pero no realiza la conversión, se le pueden enviar correos electrónicos de carrito abandonado recordándole lo que hay en el carrito y animándolo a comprar.
Estos correos electrónicos de carritos abandonados pueden incluso estar en una serie, proporcionando un recordatorio del carrito de compras en el correo electrónico uno, luego descuentos escalonados en los correos electrónicos dos y tres días después.
Comience con publicidad pagada.
Si tiene el presupuesto para ello, considere la posibilidad de publicidad pagada para generar más tráfico a su sitio. Hay muchas formas diferentes de publicidad paga, incluida la publicidad de pago por clic, el marketing de influencers y el marketing de afiliados.
Algunas de estas opciones son más efectivas que otras, así que asegúrese de realizar un seguimiento diligente de su ROI.
A continuación, se muestran algunos factores de publicidad pagada que debe considerar:
Comience con anuncios de remarketing, orientado a personas que ya han visitado su sitio web. Los anuncios de productos DPA en Facebook pueden ser extremadamente efectivos.
Cuando usas Anuncios de Facebook Para encontrar una nueva audiencia (prospección), apunte a un retorno de la inversión publicitaria (ROAS) de 2.5: 1.
Google PPC puede ser extremadamente competitivo y costoso. Tenga mucho cuidado con las palabras clave a las que se dirige y busque un ROAS de 3: 1.
Google Shopping puede ser una excelente manera de generar ventas sincronizando su catálogo de productos con el motor de Google Shopping. Esto funciona bien para productos de nicho: los productos básicos son difíciles de vender en Google Shopping, ya que compite con los principales minoristas.
Recuerde, la publicidad paga en Google y los canales de redes sociales le permiten acceder a una gran cantidad de datos, así que asegúrese de dirigirse a los segmentos de audiencia correctos y utilice esos datos para su beneficio.
Resumen Ejecutivo
El éxito en el comercio electrónico comienza con un producto increíble.
Es el producto que se convierte en el corazón de la historia de su marca, ayuda a sus esfuerzos de marketing y determina la audiencia a la que vende.
Al seleccionar un producto de nicho para vender en línea, debe resolver un problema, ser específico de nicho, cumplir un deseo y tener potencial de marca. También debe tener en cuenta sus márgenes de beneficio, la competencia y el modelo de negocio de comercio electrónico.
A fin de cuentas, el producto tiene que despertar tu pasión. La idea de que otros disfruten de su producto debe crear el impulso que lo catapulte al éxito del comercio electrónico.
Vender su propio producto y convertirse en un emprendedor en línea es mucho trabajo.
Pero imagina la sensación de cambiar la vida de miles (o millones) de personas con una idea de producto que solo tú creaste.
¿Te ayudó esta guía a decidirte por un producto de nicho? ¿Existen otros factores que le hayan ayudado a vender sus productos de comercio electrónico? Déjame saber abajo en los comentarios.